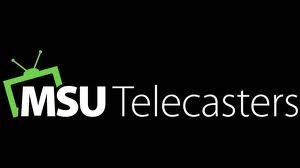 Welcome to the MSU Telecasters Wiki
Edit
The MSU Telecasters is a group of devoted MSU stundents realizing their dream of working on television programs.
Current Programs
Edit
A sitcom about the lives of six students in Wilson Hall. Founded in 1988 by Greg Harrison, it is the longest-running college sitcom in the United States. Other notable alumni include Steve Van Wormer, MJ, and Jeff Witzke.
====
SiDESHOW
If SNL and MADtv had an awkward child that went to college, we'd be that kid's ridiculous best friend that used the beer bong for our hamster. MSU Telecasters presents to you, SiDESHOW, the perfect show to get you laughing at a party or whatever your crazy ass may be doing.
We'll teach you the origin of Four Loko, why Sheriff Cowboy is such a badass, and how to defend yourself against guys named Taddy. So check us out: http://sideshowmsu.tumblr.com/

We write, produce, and edit our own sketch comedy episodes ourselves through the MSU Telecasters.

Giraffe House
Edit
Short Attention Span
Edit
Describe your topic
Edit
As a first step into the world of Television and Film, MSU Telecasters exists as experience. The six current shows are completely student run from writing through editing and offers any student interested in the field of television a chance to shine.
Executive Board of Telecasters
Edit
Interested in Joining Telecasters?
Edit
Contact Executive Producers: Sean Hildebrandt or Andrew Zeko.  Or the producers of the Show you would like to Join.